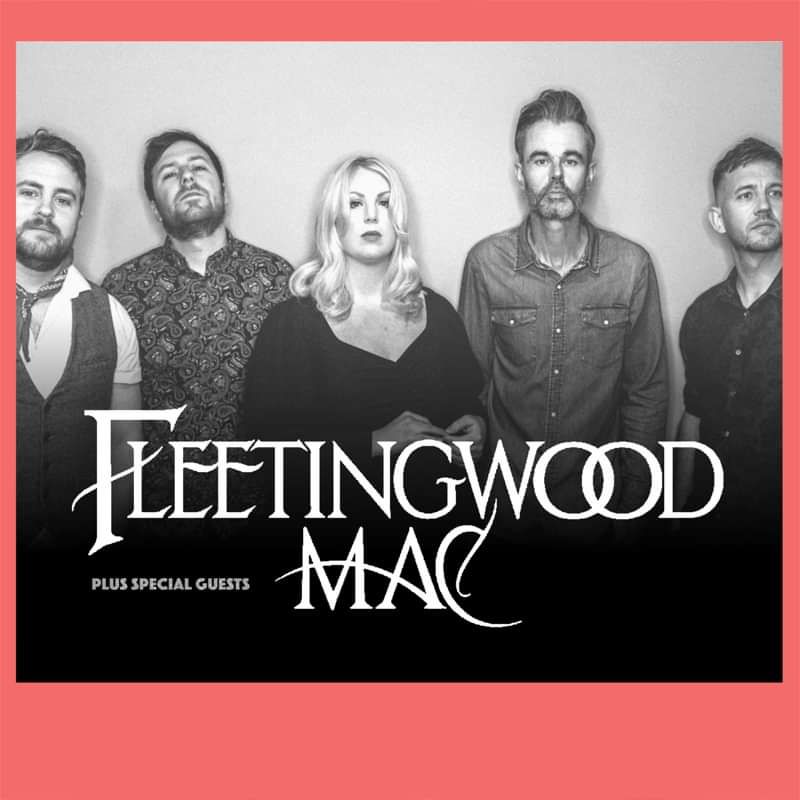 FLEETINGWOOD MAC
£12.00
Entry Requirements: All Ages. Under 14s accompanied by an adult. R.O.A.R
General Admission (e-ticket)
Fleetingwood Mac, are a young and exciting new tribute to the legendary band Fleetwood Mac.
They don't just want to be a another tribute band, with tacky wigs and fancy dress outfits. Instead, they wanted to bring across the live sound of Fleetwood Mac, with just one guitar, a keyboard, a drum kit, a man on the bass and of course, the vocals!
As much as they aim to create a genuine Fleetwood Mac sound, they can't help but give it a modern edge, it's just the way they play. How else are five people supposed to play tribute to a band that have lasted nearly 50 years?
A band who have over time have featured eight different Guitarists & Vocalists.
A band that tour arenas all over the world, with six extra touring musicians.
A band that started out as part of the sixties British Blues Invasion and ended up as one of the biggest mainstream groups of the eighties.
Let's not even get into the scandals, relationships and excesses……
They work hard in rehearsals to get the details just right and do justice to some classic songs that play a huge part in many peoples lives. They also want to introduce the songs to a new generation of Fleetwood Mac fans, who just like themselves, weren't even born when the band were in their prime. They do not go on stage pretending to be Fleetwood Mac, instead they go on as what they are...five young musicians who love the music, and want to share that music to a wider audience.
Their first show was in March 2015 which was to a sell out crowd at the legendary venue the Cellars at Eastney. Over the summer they have played many shows, each one bringing them together and developing their sound. Playing a packed tent at Victorious Festival was one of their highlights.
Their shows at the Wedge always sell out.
Below are some of the songs you can expect to hear:
Rhiannon Go Your Own Way Sisters of the Moon Oh Well Tusk I'm so Afraid Everywhere Songbird Gold Dust Woman Don't Stop Landslide Seven Wonders Never Going Back Again Silver Spring Second Hand News Isn't it Midnight Sara Big Love Blue Letter Hold Me Green Manalishi Oh Diane Edge Of Seventeen You Make Loving Fun Black Magic Woman Dreams Little Lies Gypsy Say You Love Me The Chain