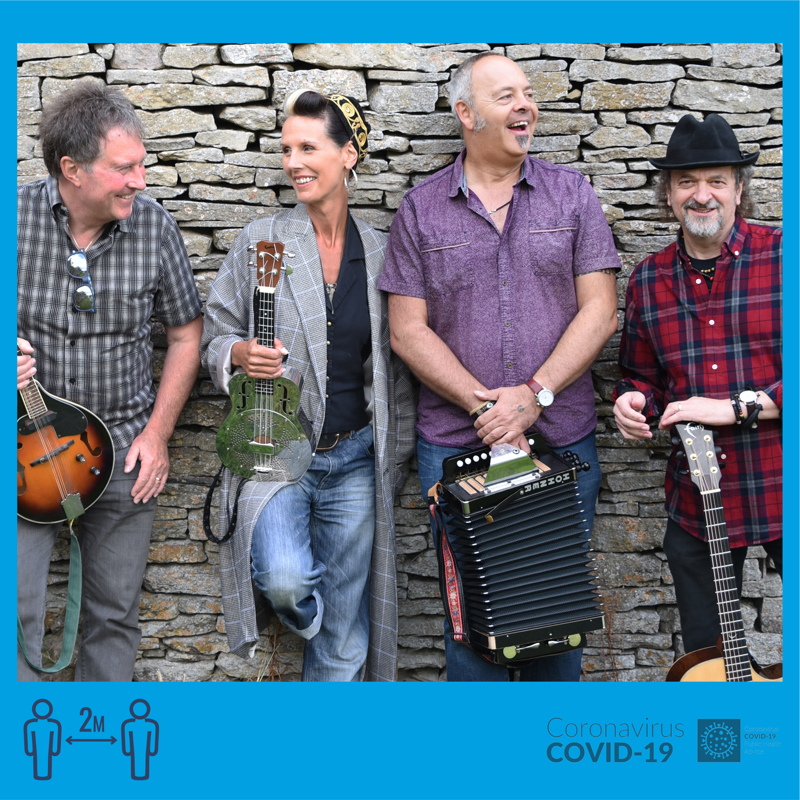 THE JIGANTICS
14.00
Entry Requirements: All Ages. Under 14s accompanied by an adult. R.O.A.R
1 Person Bubble (e-ticket)
2 Person Bubble (e-ticket)
4 Person Bubble (e-ticket)
presented by Square Roots Promotions - Moved from the Square Tower - Original Tickets Remain Valid
"One of the UK's 'must-see' live roots acts. Delving into the myriad roots of American and British music and serving it up with an originality and respect that is as heartening as it is refreshing!" (The Guardian)
The annual Square Roots Xmas Cracker show, this year with this Americana / Roots 'supergroup' - a real musical stew combining the worlds finest ingredients, a genre-defying mix of Roots, Cajun, Blues, Trad, Country and then some! As The Telegraph says - "a high quality, highlight act who are clearly destined for great things"!
This is a Socially Distanced Show
Wedge Socially Distanced Events Covid Guidelines
Please do not attend the event if you or anyone you have been in contact with are displaying symptoms of COVID-19 or have contracted the virus. The symptoms are: new and persistent cough, loss of taste and/ or smell and a high temperature. If you are displaying these symptoms, we advise that you remain at home and book at test via the NHS Test and Trace service.
Each group can have a maximum of 6 members. We ask that your social bubble is made up of the government permitted mixture of households. You will be allocated a bubble/ suitable table upon entry and cannot move to another bubble upon allocation. Failure to comply with this will result in removal from the venue. Once you are set up in your bubble, we ask that you remain within that space as best you can for the remainder of the show.
Upon arrival at the venue, we ask that you please complete the NHS Test and Trace form or use the Test and Trace App to scan the venue barcode. This will enable the NHS to contact people who may have come in to contact with an individual who has tested positive for COVID-19 after the event.
All bubble members must leave contact details, failure to do so will mean that you will not be allowed into the event, nor will your ticket be refunded. Details will be kept for a total of 21 days after the event this allows an incubation period after the event in case of an outbreak.
We will only use the details given for the NHS Track and Trace service and will not share any information with third parties. After 21 days, the written data will be disposed of in a correct manner which will ensure all data is destroyed.
No payment for tickets can be made at the venue and so please ensure you have bought the correct amount of tickets as you will not be able to purchase any additional ones on the day.
All customers must social distance when entering, during and leaving the venue.
Where you can, please remain 2 meters from anyone outside your bubble.
We ask that all customers make use of Sanitation Stations set up in various locations throughout the venue. Please ensure you are frequently cleaning your hands.
Please listen to instructions and adhere to details given to you by venue staff.
You must wear a mask at all times whilst moving around the venue - this can be removed only when sat at your table.
You are not permitted to bring your own food and drink in to the venue. If individuals are heavily intoxicated, they will be escorted from the building to keep in line with social distancing rules.
All bar orders where ever possible should be done by the BUTLR ordering app, and drinks will be bought to your table. There will be NO service at the bar.- we can provide alternative means of ordering and contactless payment if needed. Please take your drinks from the tray and put any empties on the try to be taken away by the bar staff.
If the event is cancelled due to a change in local or national policy then you will receive a refund to the value of your ticket.
All adults with children are responsible for their children. This includes in instances of social distancing; parents and guardians must ensure that their children social distance from those outside their bubble.
If customers are purposely not following social distancing measures, the venue management and security may deem it appropriate to remove individuals from the venue.
These restrictions are valid at time of ticket sale and may be subject to change in line with current government policy around which Tier Portsmouth is currently.