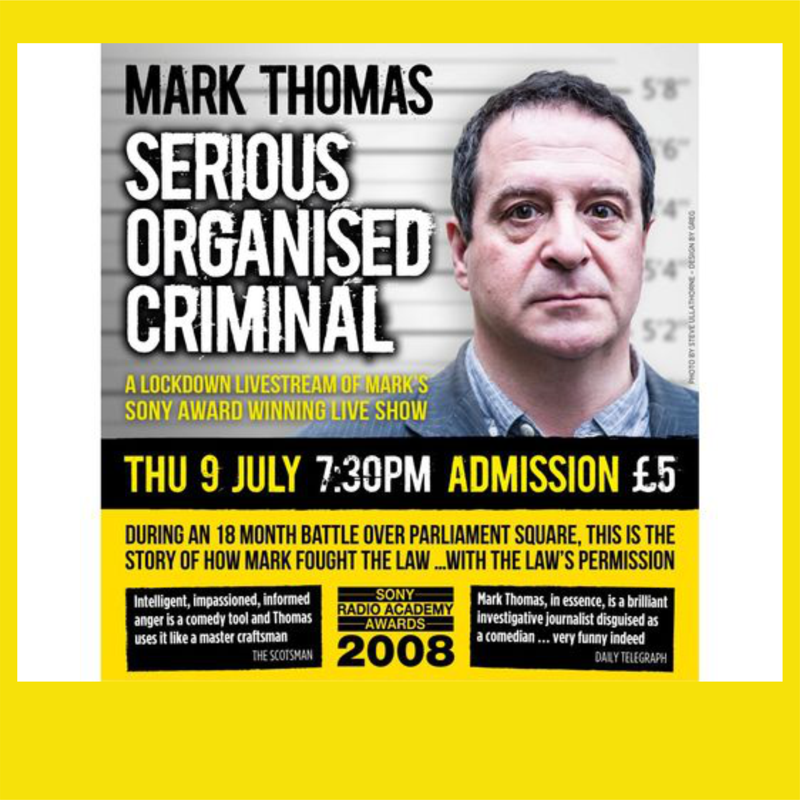 MARK THOMAS - Serious Organised Criminal (live webcast)
£5.00
Entry Requirements: 16+ age limit
Buy Tickets
LIVE STREAM Date: 9th July 2020 Time: 7.30pm Location: private youtube link Extra Info: BSL and Subtitles
20% of your ticket purchase will go to The Wedgewood Rooms
Mark Thomas – Serious Organised Criminal
This is Mark's true story of cake icing as a political weapon, of demonstrations to Defend Surrealism, and of getting to like the Police. Mark turns an 18 month battle over Parliament Square and the right to demonstrate into a bizarrely brilliant stand up show. This is how Mark fought the law ... with the law's permission.
It's a laugh-out-loud funny world inhabited by anarchists, goths and artists, in which Mark becomes a Guinness World Record holder, organises 2,500 protests in one day and changes the law in the process.
After the show, Mark will be back with a live presentation to let us know what happened next.
And then we will have a Q+A - please leave your questions in the chatroom as the show is on.
Badges! Get your Covidy Product Badges here!
INQUEST INFO This month our Lockdown Live event supports Inquest. They are an amazing group of people supporting bereaved families of people who have died in custody or state institutions and calling for truth and accountability. Their work extends from deaths in police custody to Hillsborough and the Grenfell Tower fire. Their work is vital and never more needed. Click on the link and donate. Love Mark x
INQUEST is the only charity providing expertise on state related deaths and their investigation to bereaved people, lawyers, advice and support agencies, the media and parliamentarians. Our specialist casework includes deaths in police and prison custody, immigration detention, mental health settings and where wider issues of state and corporate accountability are in question. This includes work around the Hillsborough football disaster and the Grenfell Tower fire.
Our evidence based policy, research and parliamentary work is informed by its casework and we work to ensure the collective experiences of bereaved people underpin that work. We are entirely independent of government. Founded in 1981, we campaign alongside families and others to access the truth, hold those responsible to account and effect meaningful change to prevent future deaths.
Here is a link to our donations page: www.inquest.org.uk/donate/make-donation/5/credit-card
Age Rating - 15 (some swearing)
technical info The live elements of the show will be BSL Interpreted, and the recorded elements will have subtitles.
running times 7.30pm - Intro from Mark (live) 7.34pm - Serious Organised Criminal 8.40pm - Comfort Break 8.50pm - Serious Organised Criminal updates (live) 9.10pm - Other Comfort Break 9.20pm - Q+A with Mark and special guests (live)
Line Up
MARK THOMAS - Serious Organised Criminal (live webcast)