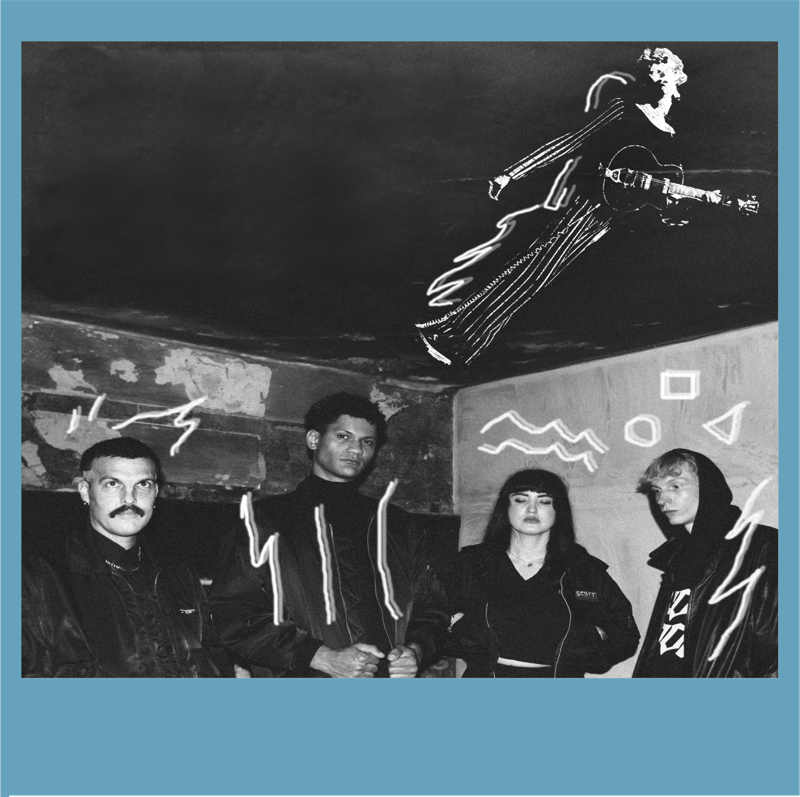 DSM IV + ELLiS D
£8.00
Entry Requirements: All Ages. Under 14s accompanied by an adult. R.O.A.R
ABH Promotions Present DSM IV + ELLiS D Plus special guests
ELLiS·D
Best known as the manic drummer behind the garage-psych outfit Strange Cages, and more recently Jealous Nostril, ELLiS·D spent ten years flailing his limbs across the tattered kits of UK and Europe's basement scene before starting out his solo project in 2021. After signing with DIY label Crafting Room Recordings at the turn of the 2022, the ensuing 15 months has seen him in a state of near consistent gigging and touring throughout the sweaty dives of the continent, bringing his raw, mercurial live performance to stages from London to Luxembourg, Bristol to Brussels, Kendal to Kusel.
Backed by a near-continuously shifting set of session musicians on his tours, in the studio ELLiS·D channels the workhorse-like energy of fellow multi-instrumentalists Ty Segall, Prince and Kevin Parker to mould a sound that at once feels familiar but also completely his own, embodying the extravagance and glam-pop sensibilities of the likes of Marc Bolan and New York Dolls with the lyrical sensitivity and intensity of The Smiths and Jehnny Beth, to create something almost uniquely contradictory. Jangly, threadbare guitar riffs weave their way through CAN inspired rhythmic pulses as hook-smeared repetitions and explosive, abstract vocal acrobatics flow and fight their way into psych-driven instrumentals.
After two self-produced EP's recorded on a shoestring in his mysterious Brighton studio space (known only to its inhabitants as 'The Carwash') sold out separate limited cassette runs, February 2023 single 'Straitjacket Blues' signified a marked shift as ELLiS·D began exploring new territory with tinges of new wave and disco infused krautrock weaving its way into his music, gaining consistent radio play from Tom Robinson at BBC Radio 6 alongside support slots for Razorlight at Brighton Dome and Hammersmith Apollo in April 2023.
"If you're into twisted, psychosomatic art-rock, ELLiS·D is right up your alley. It's like they've hacked into the matrix of music-making and come up with something entirely new. But the real magic happens during his live shows where every performance is a wild ride, like a game of musical roulette." - Still Listening
DSM IV
The DSM IV's debut album, "NEW AGE PARANOIA," is an impressive collection of stories, beats, guitars, and noise. The album seamlessly weaves together sobering but dream-filled
songs that explore the ways in which our collective minds are influenced by mass media, entertainment industries, and social media. Formed by Guy McKnight of critically acclaimed and cult favourite The Eighties Matchbox B-Line Disaster. The DSM IV has a dark sound that blends noise-rock, synth-pop and industrial, that delivers a unique musical experience. Their music is cacophonous and epic, featuring rich textures and melodic hooks that keep listeners captivated. The band's powerful soundscapes, combined with their thought-provoking lyrics, create a mesmerizing atmosphere that both entertains and encourages introspection. The DSM IV is a band that creates music with a powerful message that resonates with people who feel that a kinder world is possible. Their songs are both nasty and nice, thought-provoking and entertaining. With "NEW AGE PARANOIA," The DSM iV has crafted an album that will captivate and inspire listeners, while also prompting deeper reflection on our society's values and priorities. "Mark E Smith style lyricism to proto-techno beats, the band seem to sit somewhere between The Stooges primal garage punk and Suicide's screeching futurism" - THE CLASHMUSIC "Brilliant and exhilarating" -Eric Delsart, Rock&Folk Magazine "The swirling sinister slice of goth pop sounds like Leeds era alternative dance floor-filling Sisters/Mission dry ice shenanigans..." -LOUDER THAN WAR